We at Mountain Tiger Society provide recreation and community safety skills for adults and teens with developmental disabilities. Through the martial arts, we offer physical benefits including exercise and coordination. Perhaps more importantly we offer many psychological benefits. Students develop meaningful social connections, a sense of belonging, situational awareness, and verbal skills for avoiding problems in the community. Most importantly, we have fun while gaining the benefits of an appropriately-paced martial arts curriculum.
By most estimates, individuals with developmental disabilities are ten times likelier than the general population to become victims of abuse, crime, or sexual assault. Our classes include role-playing exercises so students can practice navigating challenging situations.
The awareness, safety, and confidence skills offered by Mountain Tiger Society give students an important mental advantage in a sometimes dangerous world.
OUR CLASSES
Each martial arts class taught by Mountain Tiger Society includes physical exercises and basic martial arts training (for example, stances, blocks, and self-defense techniques) designed to improve coordination, confidence, and physical health. Each class is tailored to the needs of the individuals in attendance, and we strive to maintain a teacher or volunteer to student ratio of at least 3:1.
Each class also provides the opportunity for social skills training such as impulse control, need recognition, communication, hygiene, and other pertinent living skills. Every Mountain Tiger Society class ends with a role-playing exercise in which students can explore safe responses to everyday challenges in the community.
Students also develop confidence and self-mastery through periodic demonstrations and tests. It is the goal of Mountain Tiger Society to become not merely a martial arts school, but a source of strength, pride, and belonging for each and every student. All of our weekly classes begin with that goal in mind.
If you are interested in establishing a similar program, please contact Sensei Mark Nothdurft at [email protected].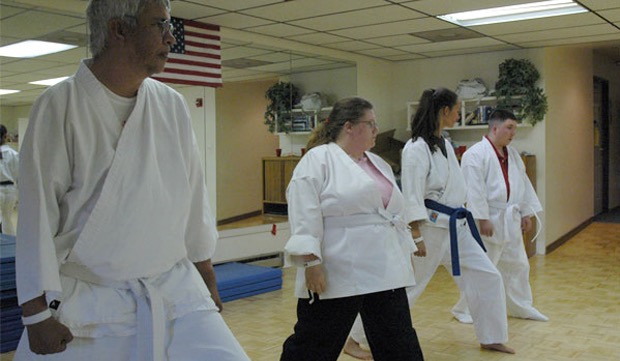 OUR INSTRUCTORS
Sensei Mark Nothdurft has studied and taught martial arts for more than 40 years. He holds black belts in aikido, yawara, karate, and jujitsu. He is one of only two people in Colorado authorized by Master Gene Chen to teach Chen's style tai chi. Mark also teaches jujitsu and children's karate at Yama Arashi Ryu.
Shawn Smith, Psy.D. is on the board of directors for Mountain Tiger Society and an occasional assistant instructor. Shawn has been active in the local martial arts community for more than 30 years. He holds black belts in karate and jujitsu. Shawn is a psychologist in private practice in Wheat Ridge.
Our helpers: Most of our classes include helpers who are family, caregivers, facility staff members, and other volunteers. Our helpers make our job much, much easier, and they are all valuable members of our team!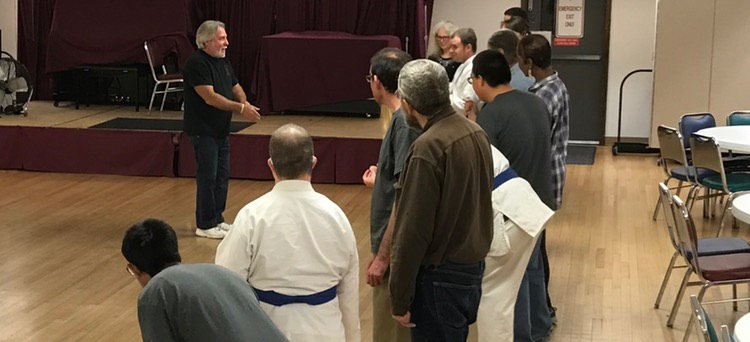 TESTIMONIALS
Here are a few of the kind words we've received from folks over the years.
---
Dear Mark Nothdurft / Staff and The Mountain Tiger Society,
Our developmentally disabled clients from the Nostalgia Group here in Denver have noticeably grown since attending martial arts instruction under your guidance. Your kind of training is sorely overlooked for our friends that truly need a way to protect themselves from harms way. The discipline, balance and agility for the disabled threat your school teaches will last them a lifetime and may very well save them from a bad situation or injury in the future.
My clients' confidence has matured and they have more control over their bodies with the exercise during your lessons. I realize that your mission is unique and I am thankful for the exceptional opportunity that you offer to the participants to our day program.
Please, anyone who is a parent or counselor, who can make the decision to involve people with disabilities in the martial arts should do so as soon as possible.
Sincerely,
– George L. Brangoccio Jr.
Director / Day Services
The Nostalgia Group, LLC
---
"I have fun learning and my balance has gotten better, too. And now I know how to protect myself."
–Scott, student
---
"I look forward to coming down to class and learning steps to protect myself."
–Gino, student
---
"The classes teach discipline in a fun way and everyone enjoys it. They also promote focus on simple tasks."
–Brooke, Day Program Counselor
---
"Everybody is treated fairly in class and it's a good place to learn."
–Jason, student
---